Adoptable Pets
It's that time again! Franklin County Humane Society is participating in Bissell Pet Foundation's Holiday Hope Empty the Shelters adoption event! All dogs 6 months and older have a discounted fee of $50, all cats/kittens have a discounted fee of $25, and adopt a second cat/kitten for FREE! We currently have 90 animals that are waiting for their FOREVER HOMES! This event starts Friday, December 1st and ends Sunday, December 17th.
But wait, there's more! We will have kittens available for adoption on Wednesday, December 6th and Thursday, December 7th from 4:30-7pm at Petsmart in Washington, MO. We will also have EXTENDED business hours on Sunday, December 17th from 12pm-3pm for adoptions only at the shelter! Help us make this the best Empty the Shelters adoption event to date!!!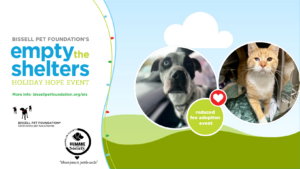 Please Note: Completing an adoption application online helps you begin the approval process for adoption.  We do not hold pets once an application is submitted.  Pets are adopted on a first-come, first-served basis at our shelter during business hours.
Adoption Fees for three dogs have been paid by Jim Feighery of State Farm Insurance located in Washington and St. Clair, MO. Holstein and KJ can be adopted for FREE and are ready to join your family!  Learn more about each of them and all of our adoptable pets below.
Hours for Adoption
Monday 11:00 – 6:00
Wednesday, Thursday, Friday and Saturday 11:00 – 4:00
Closed on Sundays, Tuesdays and major holidays
Adoption Fees
Dogs 1yr and older are $180.00
Dogs less than a year are $300.00
Cats 1yr and older are $95.00
Cats less than a year are $110.00
Included in the adoption fee:
Spay or neuter surgery
Microchip and registration
Medical care Including:
Vaccinations appropriate for the age of the animal
Deworming treatments
Flea and tick treatments
Feline leukemia testing for cats
Heartworm testing and preventive medicines for dogs
Health concerns within the first 7 after days after adoption receive a complimentary health consult with FCHS staff
Fecal reading after adoption