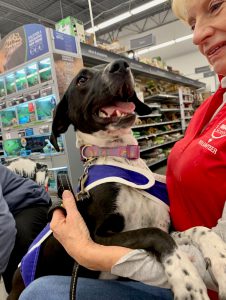 Shelter Assistant
Socialize with cats and dogs – meet our pets, hold, play and comfort them
Walk dogs – check-in with shelter staff and select a dog that would benefit from a walk
Shelter cleaning – wash bowls, sweep, mop, help with laundry
                                           Unfold newspapers – for use in pet cages
Shelter maintenance – Carpentry, electrical, mechanical and other skills are always needed for projects around the shelter.
Mobile Adoptions Assistant –  Work with our volunteer leaders to transport dogs to various locations to meet and socialize with potential adoptive families.  These events are primarily on weekends and can last 6-8 hours.  Mobile adoption volunteers often experience the joy of watching a homeless pet meet their forever family for the first time.
Foster Volunteer – Foster volunteers provide a home environment for pets who are not comfortable in a shelter setting, are young and need special care or have medical challenges.  Our staff will work with you to find a pet compatible with your family and home.  FCHS provides supplies, food, medications and veterinary care for the foster pet.  The duration of foster care varies depending upon foster family availability and pet needs.  For more information, click here.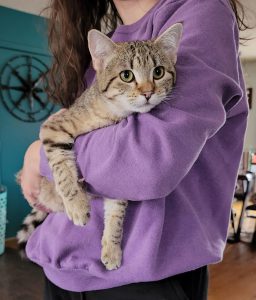 Pet Transfer Volunteer – Provide transportation for pets being transferred to other shelters or rescue agencies for adoption.  Transport multiple cats to and from surgery centers for spay/neuter surgeries.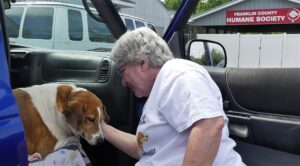 Marketing Assistant – Use your social media skills, work experience, or connections to promote adoptable pets and FCHS services to the community.
Fundraising Volunteer– Help organize or staff one of our annual fundraising events.  Collect donated items for our annual Wine, Whiskers, and Wags dinner auction.  Ask businesses for sponsorships or donations.  Sign up to collect donations during our Begging in the Streets or Christmas Bell Ringing events.
Trap, Neuter, Return Assistant – Work with volunteers to trap community cats and prepare them for sterilization surgeries.   Provide shelter (garage, sheds etc.) for cats in carriers until their surgery services can be performed and for 48 hours of recovery time after surgeries.   Transport cats to and from surgery centers. Launder blankets and other items at a local laundromat.  Clean 8 – 10 cat carriers at a local car wash.
FCHS Canine Ambassadors – Volunteers who own obedient, well-mannered dogs attend community events to share the joy of dogs and promote FCHS.  This group staffs the Wagging Tales reading events at the Washington Public Library, where children read to dogs.  The group often visits schools and organizations to talk about responsible pet ownership and the services provided by FCHS.  Dogs are required to have attended obedience training or demonstrate exemplary manners when interacting with other animals, people and children.  Please contact Laura@fchsmo.org if you and your dog are interested in becoming part of our Canine Ambassadors team.