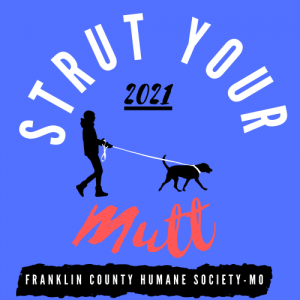 Join us in person or virtually on Saturday, April 17, 2021 from 11:00 a.m. – 2:00 p.m. to strut with your favorite mutt (or mutts).  Register here: https://fchsmo.networkforgood.com/events/27692-strut-your-mutt-2021-franklin-county-humane-society-mo.  Thank you to Pepsi of New Haven for being a Diamond Sponsor of Strut Your Mutt 2021.
In order to promote social distancing, you can walk or run with your dog anytime during the event on the Washington Missouri Rotary Riverfront Trails. You choose when to start, how far to go and how fast.  If you prefer, walk your dog with us virtually and choose your own location for your strut! Walk in your neighborhood, on your favorite trail or in a local park.
Be sure to send us a lot of selfies of you and your dog enjoying the event so we can post them to our Facebook page, in our newsletters and in emails. We won't be doing canine games this year but we will host a few photo contests.
Send us pictures of your dogs to enter: Best Dressed Dog, Biggest Dog, Smallest Dog, Best Dog and Owner Look-a-Like and Best Dog Costume.
Email your pictures to laura@fchsmo.org by 5:00 p.m. on Saturday, April 17, 2021. Make sure your subject line includes a photo contest title (for example: Best Dog Costume) and registered dog's name. Your dog must be registered for the event to participate in the photo contest. We will announce the winners on Monday, April 19, 2021.
Early Bird Registration is $20.00 per dog by April 1, 2021. Early Bird registrations are guaranteed a T-shirt (you select size) and dog bandana as well as other "Wag" bag items.
Late Registration is $25.00 per dog and is accepted April 2, 2021 – April 17, 2021. Late registrations will receive a T-shirt (sizes vary), dog bandana and other "Wag" bag items on a first come, first serve basis according to registration date.
Raise more money for our pets by rallying sponsors for you dog. Click the link for more information https://fchsmo.networkforgood.com/projects/93730-s…